Kjærgaard – Street – Cyrille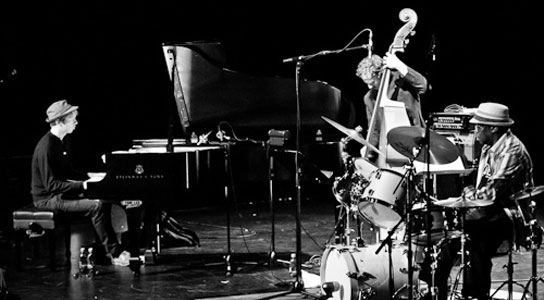 Søren Kjærgaard – piano
Ben Street – bass
Andrew Cyrille – drums
Featuring the iconic drummer Andrew Cyrille and versatile bassist Ben Street, this cross-generational trio led by SK has been praised by international critics for their three releases OPTICS (2008), OPEN OPUS (2010) and FEMKLANG (2011). Showcasing the compositional voice of SK, the trio's efforts in breaking new musical grounds has broad them to the stages of festivals and venues in Denmark, Spain, Italy, Canada and the US.
Kjærgaard-Street-Cyrille challenges the traditional trio format by converging composition and improvisation into an open sonic field with room for each individual voice to unfold; working with sound and silence on equal terms; as two in-each-other existing aspects. The debut album OPTICS (ILK) received a Danish Music Award nomination, and the 2010 follow up OPEN OPUS (ILK) was awarded the Danish Arts Council Prize for being among the best releases of 2010. Both albums were received with critical acclaim internationally and appeared on All About Jazz's annual best-of-lists. Their third album FEMKLANG, further added to their catalogue of remarkable proposals for a 21st century trio sound. FEMKLANG appeared on several best-of-2011-lists, most notably selected "Best Releases 2011 – Album Of The Year" in The New York City Jazz Record.
NEW ALBUM OUT: On March 3rd, 2014, their 4th album SYVMILESKRIDT is released digitally and on vinyl.
Where the previous album FEMKLANG (2011) looked into various nuances of silence and stillness, SYVMILESKRIDT is more an album of movement. An initial inspiration for the album was the nature of walking. How it implies both repetition and variation and how the cycles of a moving body potentially becomes a vehicle for changing states of being. Repetition becoming an intensifyer, feet becoming miles, steps becoming giant, looping becoming leaping. This interplay between forms of repetition laid out in a dynamic continuity is in many ways the ground from which SYVMILESKRIDT leaps off.
Recorded at the legendary Sear Sound studio in New York, under the auspices of sound engineer James Farber, SYVMILESKRIDT offers an uncompromising multi-dimensional sound that brings out all the subtle shades of the music. SYVMILESKRIDT is released digitally and on a high-end limited edition vinyl of 300 copies. The vinyl comes with digital download of the album + 30 minutes of exclusive bonus material from the session (C-sides). Downloads are available in both MP3 and 24-bit audio formats.
For more info and sounds on the albums please go to the Discography.